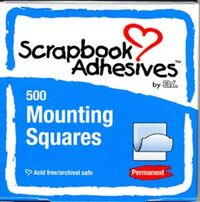 3L is a brand of adhesives that has earned its place in scrapbooking stashes worldwide. Popular for their double sided, permanent tape and dispenser units, this brand allows us to quickly adhere products onto our pages without worrying about any possible messes that something like glue might create. You can buy them here.
Ad blocker interference detected!
Wikia is a free-to-use site that makes money from advertising. We have a modified experience for viewers using ad blockers

Wikia is not accessible if you've made further modifications. Remove the custom ad blocker rule(s) and the page will load as expected.