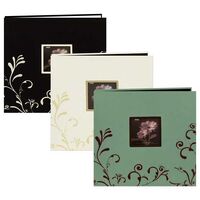 You can't begin scrapbooking without a scrapbook, right? Scrapbooking albums come a range of sizes, with the most popular being 12 inch x 12 inch (pictured to the right). Other sizes include 8.5" x 11", 8" x 8", and 5" x 7". Prices for 12" x 12" albums range anywhere from about $10 to $100. There is also a wide variety of styles and colors to fit your needs.
Ad blocker interference detected!
Wikia is a free-to-use site that makes money from advertising. We have a modified experience for viewers using ad blockers

Wikia is not accessible if you've made further modifications. Remove the custom ad blocker rule(s) and the page will load as expected.