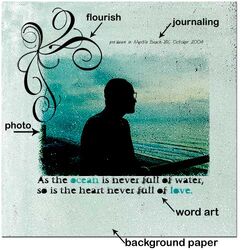 If you're a beginner, there are several layout ideas that'll steer you in the right direction. These are tried and true and definitely basic layouts that you can experiment with!
Use a picture to be the main focus of the layout; you can use embellishments and other photos around it to create a coherent theme.
Make a visual triangle with your photos and decorations. It'll create a nice balance to the layout.
Try adding embellishments in odd numbers; it'll create a nice symmetry.
If you have a photo where someone is looking to one side, avoid placing the photo towards the edge as it looks as if he's looking off the page.