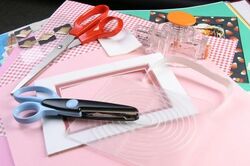 1) Select a set of photos to work on. It's the easiest if you pick a theme and pick photos for the occasion!
2) Pick one from the bunch to make it the "center" of the other photos.
3) Play around with the arrangement of the photos and layout.
4) Choose 2 or 3 colors of acid-free papers.
5) Crop your photo to desired size or shape; it depends on what you feel is a good size.
6) Mat your photos. A photo mat is great as a place setter and it makes it the focal point of your layout. Make sure it doesn't clash with other colors you've picked.
7) Write something that's related to the theme you've picked. It can be a favorite quote or phrase.
8) Time to decorate! Try rubber stamping, stickers or other embellishments like ribbons!
9) Put it all together and you have a scrapbook!
Feel free to experiment and try different layouts before sticking to one.