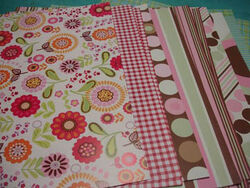 This is a very helpful guide on how to mix and match patterned papers for your scrapbook pages.
First paper - Pick a more neutral, solid-colored background paper. If you like, you can even pick a very subtle patterned paper as your background paper.
Second paper - Go for a bold patterned paper. Feel free to choose a bold design but there must be something such as a color in this bold patterned paper that complements your first paper.
Third paper - Pick a patterned paper that's more subtle so that it doesn't compete with your second paper choice. Try to select a patterned paper that picks up elements from both the background paper and the bold designs of the second paper.