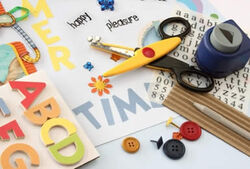 What will you need to make a basic scrapbook?
Materials
Edit
Cardstocks

Solid-colored plain or textured and acid-free papers will be best. Cardstocks are used as background papers and as photo mats.

Patterned Papers

Acid-free papers with designs or prints will work best. Papers can be used as photo mats, background papers, embellishments. etc.

Scissors -
There are a lot of different types that have designs in them to make your pictures or mattes
have shapes, but also have a normal pair as well.
Adhesives

Acid-free glue. Liquid glue, glue-dots and glue-tapes will probably work best.

Journaling Pen

Pens used on your scrapbook layouts should be pigment ink, acid-free, waterproof, fade proof and non-bleeding.

Scrapbook Album
Embellishments

Embellishments are the best way to customize and personalize your scrapbook. You can use anything from buttons, ribbons, eyelets, stamps to origami, rub-ons, and stickers.