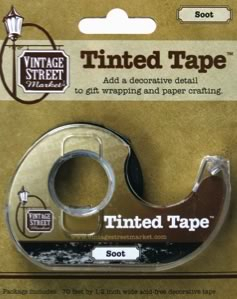 Village Street Market
is a website that offers a number of products intended to add flair to paper crafts. The store recently released the line of decorative tapes.
The Soot Tinted Tape could be used to adorn the corners of a photo, serve as a border, or simply added as embellishment to scrapbooking pages.
This tape looks as if it has been smeared with soot. Pages can have a different look when the tape is no longer just an adhesive but also an embellishment. Vintage Street Market even suggests stitching through the tape to give it a different look on the page.
The roll comes with 70 feet of cellophane tape on a dispenser. It is acid-free and safe to use on projects like scrapbooking.
Vintage Street Market also has a blog with ideas of how to use the tape and sample projects.